Home / Programming / Installation of the TH115 Floor Heating Thermostat
Installation of the TH115 Floor Heating Thermostat
Installation of the TH115 Floor Heating Thermostat
Must-Do for TH115 Installation
INSTALLATION SHOULD BE CARRIED OUT BY AN ELECTRICIAN AND MUST COMPLY WITH LOCAL ELECTRICAL CODES.
Power off the heating system at the main power panel in order to avoid any risk of electrical shock.
Connect the power base wires to the power supply and to the load using solderless connectors for copper wires.
Insert the floor sensor cable through one of the two openings on the base and connect the sensor wires to terminals 1 and 2 (no polarity). Position the sensor cable such that it does not come in contact with the floor heating wires. The sensor probe must be centered between two floor heating wires for best temperature control.

If you wish to install a relay, insert the wires through one of the two openings on the base and connect them to terminals 2 and 3.

Push the excess length of high voltage wires back inside the electrical box.
Secure the power base to the electrical box using the provided screws.
Verify the settings of the configuration switches on the back of the control module.
Install the control module on the base.
Apply power to the heating system. Verify the installation by making sure that the heating system can be turned on and turned off by increasing and decreasing the set point.
Test the ground fault protection. When pressing the button, if it lights up, it is working properly. If it is not, there may be an installation issue.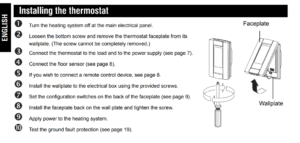 Further Questions?
Programming

Miscellaneous questions

Installation

Troubleshooting

Preparing for your project

Wiring