Home / Preparing for your project / Tempo Thermostat
How Do I Wire my Tempo Thermostat?
Tempo Thermostat
Wire your Tempo Thermostat with our Simple Guide, Diagram, and Video!

1. Attach the Sensor Wire from the Tempo Thermostat into Ports 1 and 2 (See Image Below)
2. Next, Check to Ensure that You Have all the Following Wires Connected to the Back Panel:
Power lead (Line 1 and Line 2)
Heater wire (Line 1 and Line 2)
Floor Sensor
3. Complete Wiring as Shown Below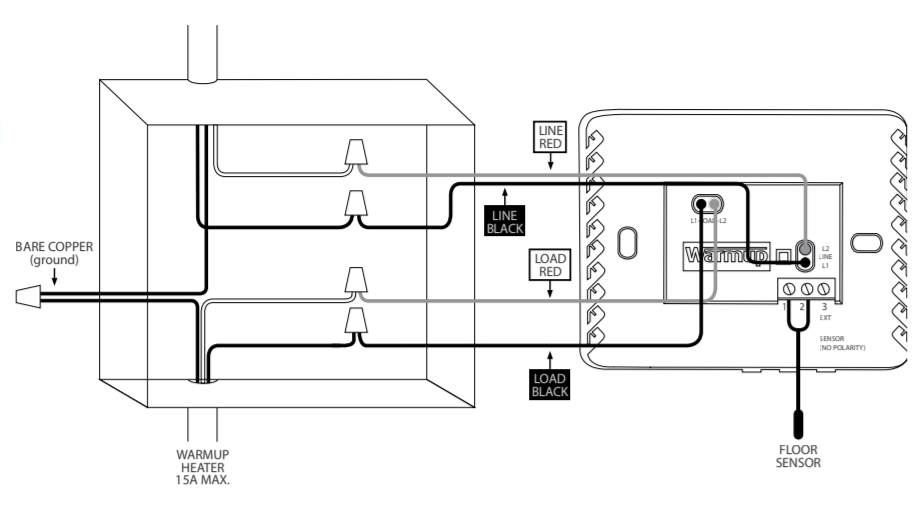 4. Finally, Pull Wires into the Electrical Box
Subscribe to our YouTube channel here. For more information, refer to the installation manual and specification sheet.
IMPORTANT
Ensure that multi strand wires are fully inserted into twist-on wire connectors (wire nuts) and secure tightly. Then, trim any loose strands as they could cause a short-circuit.
Note: Do not obstruct the thermostat's vents. 
WARNING – Important Safety Note
This product uses mains voltage electricity and work is only to be carried out by a qualified electrician. Each time, you need to isolate the power supply before attempting to install or repair the Tempo Thermostat. Do not put the thermostat into operation unless you are certain that the entire heating installation complies with current general safety requirements for electrical installations. Electrical installation must be in accordance with latest local electrical wiring code.