Home / Programming / Heating Mats – DWM
What type of thinset should I use with my Warmup system?
Heating Mats – DWM
We highly recommend the use of polymer-modified adhesives, also known as "modified thinset."
Since the addition of the polymer compound creates a more dense bonding reaction during the curing process, this ultimately improves heat distribution. Acceptable tile adhesives include modified polymer self-leveler or thinset.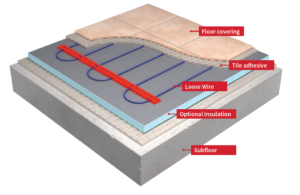 When installing the mat under tile or stone flooring choose one of the following methods:
Single Layer Method: Apply a layer of 3/8" 

thinset 

cement or adhesive over the heating Cable. Lay the tile or stone directly into that layer of cement.
Double Layer Method: Embed the heating mat in a skim coat of 

thinset 

or self-leveling compound completely covering the heating element and the sensor wire. Using a rubber float, spread the thinset over the cable in the same direction as the wire. Ensure that the space between the cable is filled. Allow this layer to dry completely. Apply a second layer of 

thinset 

or adhesive and lay the tiles as usual. The required minimum total for both layers is 3/8" of thinset or adhesive.
When deciding between the single layer or the double layer method you should consider the following: We do NOT recommend the single layer method if you will install mosaics or a combination of tiles of different sizes. If this is the first time installing underfloor heating the double layer method is highly recommended.
Waiting Period: Ceramic tiles and stone installations require 1 to 3 weeks for the thinset to cure. Do not switch on the underfloor heating system until you have allowed the thinset material to fully cure. Failure to do so will result in damage to the system and cause the thinset to become brittle.
Please refer to the installation manuals for more information.
Further Questions?
Installation

Troubleshooting

Preparing for your project

Wiring

Miscellaneous questions

Programming