Heated Driveway
Warmup driveway snow melting products keep your pavements, driveways and sidewalks snow-free and ice-protected. They are placed under concrete, asphalt or pavers to prevent the accumulation of ice and snow. The system is connected to moisture and temperature sensing thermostat to control.
Heated driveway made simple and safe.
---

---
Warmup driveway snow melting Mats and Cables effortlessly prevent the accumulation of snow and ice on driveways, parking garages, ramps, walkways, and stairs.  The snow melting system is then connected to a moisture and temperature sensing automatic controller. Trade your shovel in for a Warmup Heated Driveway system.
Would you benefit from a Warmup Heated Driveway system?
Heated driveway systems provide peace of mind.
Unexpected storm? Your Warmup driveway heating systems will always be ready. Warmup snow melt systems are constant wattage heating mats or cables, installed underneath pavers, asphalt or concrete. They prevent ice and snow accumulation on driveways, parking garages, ramps, walkways, and stairs. Save your wallet from plow companies, your back from falls and shoveling, by installing a Warmup snow melt system today.
Warmup offers both kinds of systems for driveway heating; snow melting mats that have a cable attached to them and loose cables that are available in a variety of lengths, allowing you to heat as small or large area as you need.
The main benefit of electric heated sidewalks and heated driveway systems over glycol-based hydronic systems is that they are much simpler to design and considerably less expensive to purchase and install.
Increase safety and convenience by keeping driveways and paths snow-free and frost-protected, with our wide range of outdoor heating solutions.
Snow melting heated mats for driveways (and more)
Warmup Snow Melting Mats are uniquely designed for surface melting to keep parking lots, driveways, sidewalks, pavements, stairs, ramps safe and hazard free. Snow melting mat systems are composed of heating cables taped to a sturdy mesh backing for a fast and easy installation. More precisely, the system consists of a twin conductor heating cable taped to a Polypropylene mat. The heating cable is laid in a winding fashion so that they are equally spaced (3" apart) and evenly distributed on the mat, resulting in high wattage output and increased efficiency.
Snow melting cables
The Warmup snow melting cables are rated for 208-240-277V applications. Embedded up to 4" deep in concrete pours, asphalt driveways and paved walkways, the driveway heating cables can be laid out as tire-tracks or for full coverage designs. The heating cable allows for 3"-5" spacing giving flexibility and versatility to any project.
The Warmup driveway cables can be installed in sand, gravel or on wire mesh.
Snow melt controls
So, your snow melting system is installed. Now, what?
 Your Warmup Snow Melting System should ideally be controlled by an approved and supported Warmup controller.
Connect your driveway heater to one of our intuitive outdoor thermostats that will automatically activate based on readings from the temperature and moisture sensors.
Adjust your temperature setting according to your needs at any given time and relax! You now have a friend outside keeping your steps, walkways and driveway clear, dry and safe.
From small to large projects, Warmup offers a wide range of controllers suitable for any installation.
How to choose which snow melt control best suits your application?
The suitable outdoor heating controller comes down to two things; the size of the area you want to heat and the nature of the area, whether stairs, pavers or so on.
The DS-5C, equipped with 2 x 30 amp contactors, is useful when you are heating several areas; your driveway, walkway, stairs and can even be combined with your roof and gutter system. No need for separate controllers to do both jobs, the DS-5C will qualify for this.
Warmup also has many controllers suitable for larger installations and commercial applications. Our Commbox-600 system even allows for zone heating, where zones can be heated continuously or in customized sequencing.
Installation of the snow melt control
One basic principle when getting started with the controller installation is to ensure to locate one sensor where the snow and ice will manifest first, and another where the snow is going to disappear last. This will guarantee complete clearing of snow and ice. For example, on a sloped down driveway to an underground garage, place a sensor at the top and at the bottom of the driveway. Remember a combination of sensors can be ground-ground or ground-roof.
Ground sensors must be placed within the heated area. Always maintain a minimum distance of 1" between the sensor conduits, sensors and the actual heating cable. Finally, never place two sensors within 3ft of each other.
How much does it cost to get a heated driveway?
The total cost of a heated driveway is dependent on the system you choose and of course, the size of the area. Additional costs are labor for the installation and road cover. An average price for the Snow Melt Mat system for 1,000 sqft of cable, with a controller and a nameplate (required per NEC 426-13) is under $5,000. However, the total price becomes always much less than people expect. With the effortless melting of surface snow and ice due to your Warmup Snow Melt system, you no longer need to shovel or worry about slipping on ice.
Preventing slips, injuries and reducing hazards make your Warmup Snow Melt system truly priceless.
---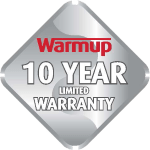 10-Year Limited Warranty
This product comes with a 10-Years Warranty. We are completely confident in the standard of our products.
---
 CAD Section: Snow Melting Cable with wire mesh
Area ft2
Item
Size
Wattage (W)
Amps (A)
Resistance

(Ω) 

10
WSMM-D-0500-240
2′ x 5′
500
2.1
115.20
20
WSMM-D-1000-240
2′ x 10′
1000
4.2
57.60
30
WSMM-D-1500-240
2′ x 15′
1500
6.3
38.40
40
WSMM-D-2000-240
2′ x 20′
2000
8.3
28.80
50
WSMM-D-2500-240
2′ x 25′
2500
10.4
23.00
60

WSMM-D-3000-240

2′ x 30′

3000
 12.5
19.20
70

WSMM-D-3500-240

2′ x 35′

3500
14.6
16.46
80

WSMM-D-4000-240

2′ x 40′

4000
16.7
14.40
90

WSMM-D-4500-240

2′ x 45′

4500
18.8
12.80
100
WSMM-D-5000-240
2′ x 50′
5000
20.8
11.50
120
WSMM-D-6000-240
2′ x 60′
6000
25.0
9.60
30
WSMM-D-240V/3×10
3X10ft
1500
6.3
38.4
60

WSMM-D-240V/3×20

3X20ft

3000
12.5
19.2
75

WSMM-D-240V/3×25

3x25ft

3750
15.6
15.6
90

WSMM-D-240V/3×30

3X30ft

4500
18.8
12.8
120

WSMM-D-240V/3×40

3X40ft

6000
25.0
9.6
Length (ft)
Item *
Cable spaced at
Wattage (W)
Amps (A)
Resistance (Ω)
3″
4″
5″
Gives sq ft coverage of
84
WSM-D-240V-40W/1000
20
27
34
1000
4.2
 57.1
168
WSM-D-240V-40W/2000
43
57
72
2000
8.3
 28.9
209
WSM-D-240V-40W/2500
51
67
84
2500
10.4
23.1
251
WSM-D-240V-40W/3000
62
84
104
3000
12.5
19.2
420
WSM-D-240V-40W/5000
100
140
170
5000
20.8
11.5
458
WSM-D-240V-40W/5500
110
155
190
5500
22.9
10.5
500
WSM-D-240V-40W/6000
122
181
200
6000
25.0
9.6
*Does not exist in 120V
Snow Melting Products
Mat and Cables:
  Technical Specifications (Mat)
  Technical Specifications (Cable)
  Installation Manual (Mat and Cable)
Controllers:
  Technical Specifications (DS series)
  Installation Manual (DS-2C)
  Installation Manual (DS-5C)
  Installation Manual (Commbox 600)
  Installation Manual (CDP-2)
 3-Part Spec
Other products from our outdoor range

Roof Deicing
Protect your roofs, gutters and downpipes from snow and ice.
View Product
---

Pipe Freeze Protection
Warmup freeze protection cables can be applied to pipes, ducts and water lines.
View Product
---