Home / Picture / Warmup Inslab Cable – INSLAB
Basic Installation of the In-slab Floor Heating Cable
Warmup Inslab Cable – INSLAB
Warmup In-slab Floor Heating Cable is designed to be placed within the cement slab of at least 2" (50mm) in thickness, with at least 11/8" (30mm) of the slab above the heating wire.
For a thicker pour of up to 6", elevate the wire mesh with bricks, wood blocks, or other spacers to float the cable at the desired level. Depending on the construction of the subfloor and in general, to improve the efficiency of the system, you may need to apply insulation before the pour.
In most common instances, zip-tie the cable to a 16 Ga wire mesh ("re-mesh" type) or similar with 4"x4" square openings. Elevate the mesh as needed and level it to the desired depth about the size of the pour. Warmup recommends keeping the cable about 2" from the surface.
When applying the cable to an existing slab or substrate using metal fixing strips, lay the cables out perpendicular to the cable runs. Secure the fixing strips with screws, hot-glue/ liquid nails, or any suitable adhesive to avoid movement when looping and stretching the cables. Lay additional runs of strips where needed to avoid spans over 4 feet.
ALL electrical connections must be carried out by a qualified electrician. ALL electrical regulations must be observed, including national and local codes.
REMEMBER TO TEST THE RESISTANCE OF THE CABLE BEFORE, DURING AND AFTER INSTALLATION.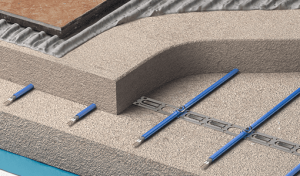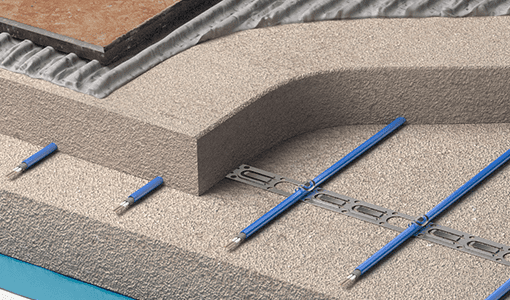 In-Slab Floor Heating Cable
If you have any additional questions please feel free to contact us or head over to our YouTube channel for customer-requested tutorials, time-lapses, product unboxings, and so much more!