Home / Wiring / 4iE Smart WiFi Thermostat
How do I upload a custom background to my 4iE?
4iE Smart WiFi Thermostat
The 4iE® is offered in White & Black. It is designed to look great in both modern and traditionally styled homes, with glass effect front faces and beveled chrome edges to reflect wall colors.The large color touchscreen can be customized with different themes and custom up-loadable photo backgrounds* to complement your wallpaper. There's even a 7-day local weather forecast built in*. (*WiFi version only)
You can follow along to the below video to set a custom background or, continue reading below.
Subscribe to our YouTube channel here.
You can change the background by going to www.my.warmup.com. Select your thermostat on the Rooms tab. Click on the settings icon in the top right corner. Go to display settings and find Background. Here you can choose the custom wallpaper for that thermostat or upload a new one.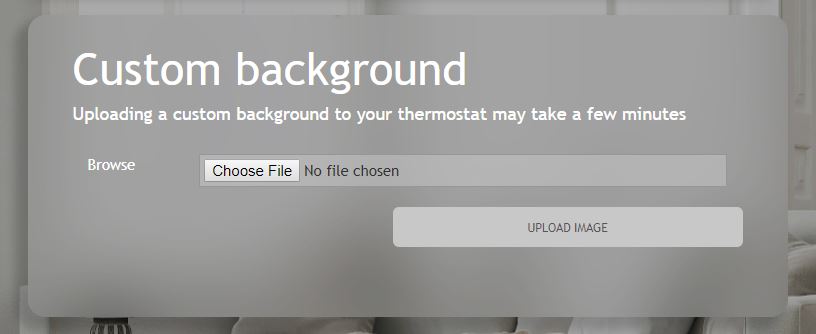 You can also upload a background through the My Heating app directly from your phone. Simply log into your account. Select the three lines in the top left corner activating the drop-down menu. Next, select 'Rooms' from the drop-down menu. Then, select customize for the room you would like to upload a custom background for. Lastly, select choose image and a photo you would like to upload. Then select 'Save'.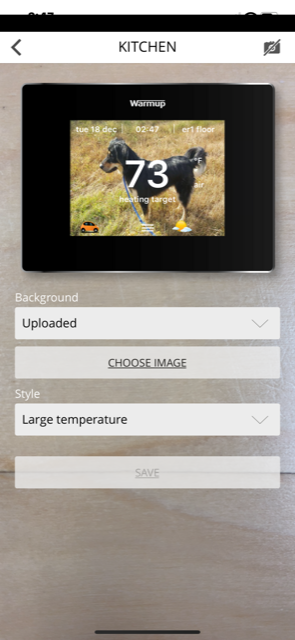 Refer to the operating manual for more information.
Further Questions?
Miscellaneous questions

Programming

Preparing for your project

Wiring

Troubleshooting

Installation