If you live in an area of the country that gets a lot of snow, a paved driveway or sidewalk can be a chore to keep clear in the winter, especially on a steep slope. 
Often the issue is ice, which can't be walked on to remove. Using rock salt is a temporary fix and is unrealistic for clearing a large area. In addition, using chemicals that can damage your lawn and plants isn't appropriate for the environment. 
This article presents a permanent solution that will add value to your home and give you peace of mind.
Challenges of an Unheated Driveway
There are only a few remedies for clearing the snow and ice from your driveway if you want to do it yourself, and both can be back breaking.
Time Consuming, Active Maintenance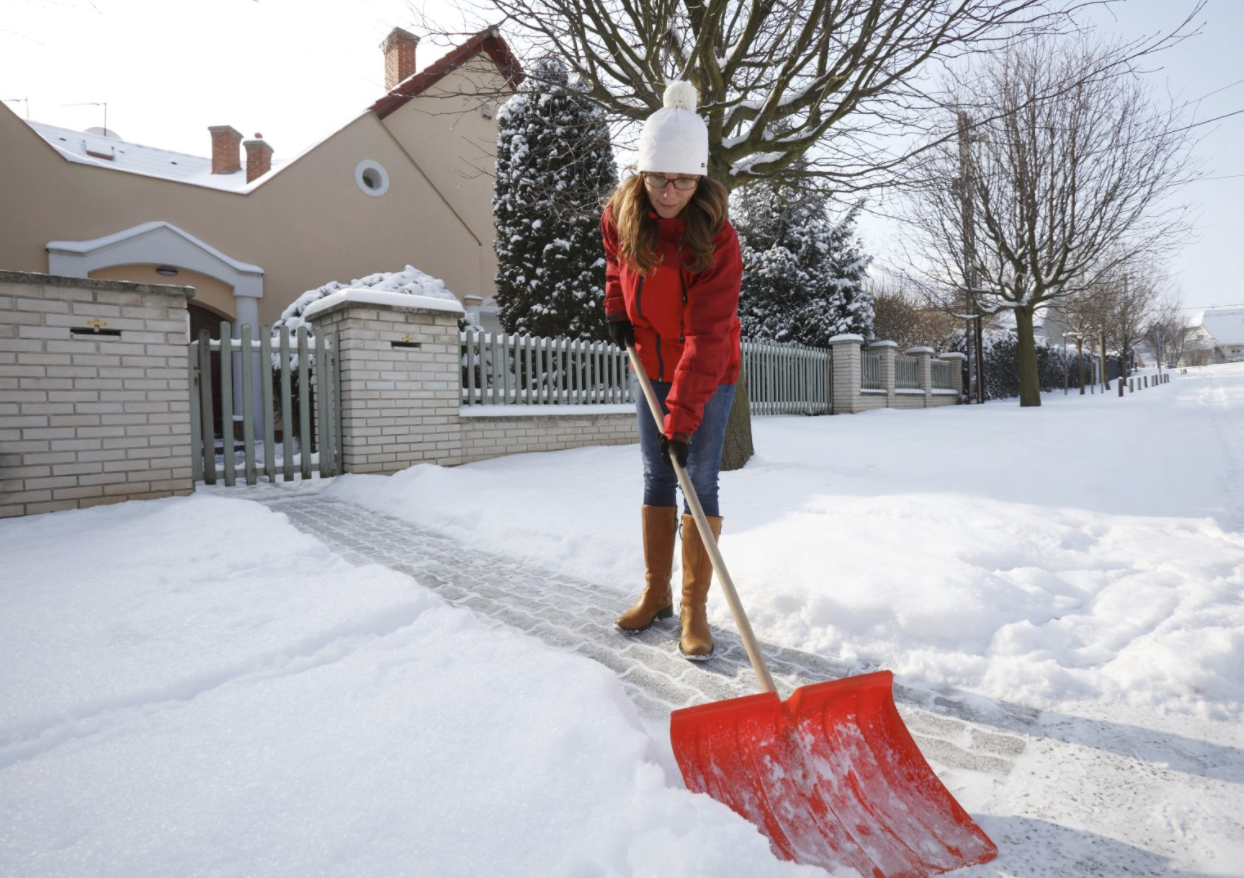 If you're 25 with a strong back, the thought of shoveling 500-600 square feet of snow may not bother you, but for most people, a snow shovel represents hours of time lost to a tedious task that will have to be repeated with the next storm. It is heavy work that can hurt your back, and slipping on frozen snow can cause serious injury.
Expensive to Hire Someone
There are companies that will plow your driveway, but their fee can be high. Snow plows are in demand after a snowfall, and usually respond to the highest bidder first, meaning you may not see them before the next snowfall adds inches to what's already there. Having a contract with a snow removal firm is reasonable, but you will pay whether there is a snow event or not.
Equipment Requirements
If you decide to buy your own machines and take on the work yourself, you will find that snowblowers are expensive. The small machines start at $600 and the larger machines (necessary for 2 car driveways), start at $1,000, not to mention gas, oil, and regular maintenance. (These prices represent homeowner-quality machines, not professional level equipment.) 
After you purchase the equipment, you will need to store it in a safe, dry place, until it's needed. That may mean you lose a spot in the garage.
The Best Solution: Prevent Ice and Snow Buildup with a Heated Driveway 
A heated driveway may sound like a luxury item, but it could be a lifesaver if you can't safely clear it on your own. Perhaps you live on a hill, and the driveway is too steep to walk on when it is snow-covered. If you're dependent on a contractor to clear it, and they can't get to you quickly, you may miss time at work. The investment in a heated driveway will be appreciated the first time you experience a snow storm, and realize your driveway is clear and you can leave the house without touching a shovel or snowblower.
How Do You Install a Heated Driveway System?
The ideal time to install a heated system is when the home is being built, before pouring the driveway. However, a heated driveway can be installed anytime after, with a little prep work. The system can be installed under concrete, asphalt, or pavers, and the procedures are similar for each.
The first decision is whether to use mats or loose cables. Mats are preferred for straight driveways, while loose cables are better suited for curving drives or sidewalks. You will need 240V power for either selection.
If your project is a new pour, there should be a solid base of crushed gravel at least 4 inches deep. Re-mesh wire is laid on top of that, and the heat mats are zip-tied to it and spaced per the instruction manual. Depending upon the depth of the pour, the remesh should be elevated above the gravel base so that the heat mat is approximately 2" below the surface of the concrete. It can be deeper, but it will take longer for the driveway to heat up.
You can install the system on top of an existing driveway after a gravel base is laid for drainage, and at least 2" of concrete is poured on top.
The same instructions would be followed for asphalt with a few caveats:
At least 1" of sand should be placed on top of the hard gravel base to lay the mats in.

A hand roller is recommended to finish the asphalt, instead of a machine.
For a paver installation, use the same 4" packed base of gravel, lay the mat in 1" of sand, and finish with more sand and the pavers.
The heat mats or cables will be connected to a sensor system that activates the heat cables and keeps your driveway clear.
How Much Does it Cost to Heat a Driveway?
The cost depends on many variables, but a basic guide is $10 a square foot. If you are heating a 20×30 foot driveway edge to edge, it would likely cost $5,000 plus controls. However, you can reduce your costs by only heating the area where the tires run. It is called the tire track pattern, and could cut the price in half.
The Best Way to Clear Snow From a Driveway: Warmup Heated Driveway System
Warmup has specialized in driveway and sidewalk heating systems for 25 years. We have the expertise to help you design a system customized for your circumstances. We also offer a sensor system that is connected to the internet and heats up your driveway in advance of a snow storm. Contact us today for more information or a quote on our lineup of exterior heating and electric underfloor radiant heating systems.