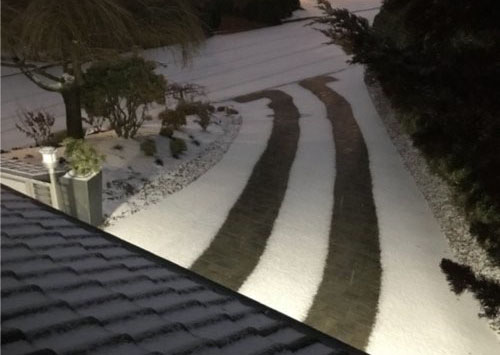 The Waite Residence Heated Driveway
◩ Project Type
Residential
◩ Project location
Portland, OR
◩ System specifications
Relay – Relay-40
◩ Client
Husband and wife Tim and Fran Waite have lived in their Portland, Oregon home for 32 years where they hope to stay for many more years.
◩ Heating system
◩ Project size
75ft
The Challenge
After 32 years of use and Portland weather damage, Tim and Fran decided that it was time for a new driveway. Easy project? Think again. The couple's 75ft driveway was not only disintegrating, but it also presented a steep slope to the road. As a couple in their 70's, Tim and Fran wanted a solution that was not only beautiful, but safe and maintenance-free.
The Solution
With the help of Ben from Ross NW Watergardens Landscaping company, Tim and Fran began planning a driveway demolition and remodel. Warmup was happy to be called in to work on this project to address the concerns Tim had about getting in and out of the home during days that were snowy or icy. Although Portland does not get much snow, Tim's prior experience with ice on the driveway was enough to convince him snow melting mats should be installed. There was just one complication – the project's maximum electricity draw had to be below 100 amps. With such a large space to heat and so little amperage available, the Warmup Technical team got to work looking for the best solution to Tim and Fran's problem. Instead of heating the whole driveway, Ross designed a tire-track system with Warmup that allows Tim and Fran to get up and down the drive safely, with minimal electricity consumption.
The Result
The pictures truly speak for themselves! Coming in just under 100 amps, Tim and Fran were able to heat two parking spots at the top of their driveway and a set of 70' tire tracks during their September installation. Not only will this system allow them to drive in and out of their steep driveway at all times, it also allows for a clear walking path to the mailbox that turned out to be a nice benefit of this ingenious system.
Product information
Find out more about the UFH products used in this project.
Have any questions about Warmup?
If you're interested in specifying floor heating in your next project, get in touch with us today.
Related Projects
Discover more inspirational projects from around the world