New from Warmup®, Ultralight™ insulation is first of its kind offering insulating, heat-spreading, decoupling, and acoustic benefits all in a one-quarter-inch thick board. Ultralight insulation boards are the first insulation boards designed specifically for use with electric underfloor heating. The 2'x4' boards pair with the Warmup® DCM-PRO Membrane floor heating system to deliver a savings of $1, per square foot, per year.
How does it work?
Ultralight™ is designed for the most efficient use of electric floor heating systems. The layers that make up Ultralight™ deliver 4 benefits in 1 board; insulating, heat-spreading, decoupling, and acoustic.
The surface of Ultralight™ features a secure synthetic fabric layer as well as a heat-spreading aluminum layer. The surface materials of the board promote even heat distribution to eliminate cold spots.
The core of PEF insulation provides thermal separation from the floor beneath, ensuring a rapid thermal response of a heated layer of tiles or leveling compound above. The rapid thermal response promoted by the PEF insulation and diffusion layer allows the flooring to heat up faster, resulting in a more energy-efficient heated floor.
The base layer of non-woven fleece functions as a high-performance anti-fracture membrane for tile and stone floor coverings in accordance with ANSI A118.12 standard. The base layer also facilitates a high-strength mechanical bond.
Why use Ultralight?
From installation to performance, Ultralight™ goes beyond any other insulation board to deliver more with less work.
Installation
True to its name, Ultralight™ weighs in at just over 1lb per board making it much lighter and easier to move than standard cement-based backer boards. Ultralight™ cuts to size easily, straight or curved, without dulling a utility knife or creating any dust.
Despite its ease of cutting and inability to dull a knife, Ultralight™ is durable and will not bend, break, or crumble even if it is dropped. Ultralight achieved a Heavy Commercial rating when used with large format tiles (600 mm x 600 mm) and a Light Commercial rating when used with standard tiles (300 mm x 300 mm), in accordance with ASTM-C627 (Robinson Test).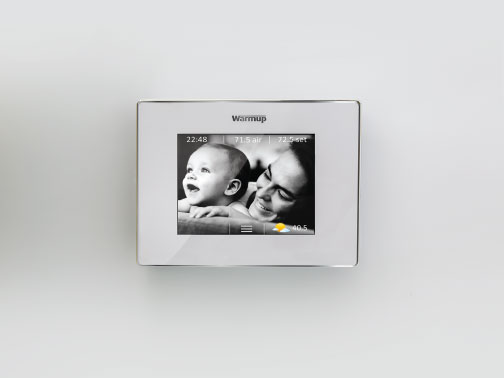 Performance
Ultralight™ offers more benefits than any other insulation board in the same size package. The PEF insulation layer reduces heat-up times by 76 minutes on slabs and reduces energy used during heat-up by 69% resulting in a $1 savings, per square foot, per year.
Beyond insulating, the heat-spreading aluminum layer of Ultralight™ improves comfort and reduces running costs by allowing floors to achieve the same comfort temperature with 12% less energy and that still is not all. Ultralight™ offers a decoupling fleece layer to provide high-performance protection against tile cracking due to lateral subfloor movement in accordance with ANSI A118.12 standard.
About Warmup
Warmup is a certified ISO 9001:2008 manufacturer creating and delivering electric heating solutions.  It has sold in excess of 2 million systems in more than 60 countries in 25 years of trading.  Warmup has subsidiary operations in 11 countries and licensed trading partners in other countries.
The Warmup EN422-2 Research Center in Bremen, Germany, and its Monitored Homes Program drive the innovation behind the DCM-PRO family of products and the 4iE Smart WIFI Thermostats.