If you're planning on renovating your kitchen and considering installing a floor heating system as part of the remodel, we know that sourcing and purchasing the individual components for this kind of project can get a little confusing. In this guide, we'll walk you through everything you need to know about buying the perfect floor heating system for your kitchen and provide you with a tailor-made heating package for your kitchen too. You'll find out:
The most common kitchen sub-floor types and floor finishes
The best value Underfloor Heating System and accessories for your kitchen
How long does floor heat take to install and how much it should cost
A pre-packaged quote for a kitchen floor heating system
How to purchase a Warmup system
Most Popular Kitchen Floor Types
Underfloor heating systems are an ideal heating solution for kitchens as typically kitchens have cold tile flooring. A Warmup floor heater offers radiant warmth for the heart of your home without taking up any space.
Before you start renovating your kitchen, it's a good idea to find out the sub-floor type of the room so that we can best advise which UFH system will suit your needs.
One of the most impactful ways to transform your kitchen is by laying down new flooring. Warmup systems can work with all floor finishes, so no matter whether you choose vinyl, natural wood, or ceramic tiles, we've got the perfect energy-efficient heating system for you. However, tiles are by far the most popular floor finish for kitchen remodels, so we'll use this floor type for our package.
Working Out the Heated Floor Area
Once you know your subfloor type and chosen floor finish, you can now work out the heated area size of your kitchen floor to get a precise cost for underfloor heating. The heated floor area is the amount of floor space you wish to be heated by a floor heater and is measured in square feet. In kitchens, it's important to remember that you shouldn't include the floor space underneath new or existing kitchen cabinets or appliances – only measure the free floor space. A popular heated floor area size for kitchens is 100 square feet, so we'll use this size for our kitchen heating package.
Best UFH Solution for Your Kitchen
If you're looking at installing a floor heater in just the kitchen, leaving the rest of your home heated by a central heating system or other heating solution, then an electric heater is the best option. Electric underfloor heating systems are ideal for kitchen refurbishment projects as they are quick to install and won't have a significant impact on floor heights.
The DCM-PRO Heated Decoupling System is the best underfloor heating system to use with tiled floors. It has been specifically designed to protect floor tiles from cracking, utilizing a unique combination of a separate heating cable installed in an anti-fracture mat. The DCM-PRO System also offers great value for money; if we select this heater for our kitchen UFH package over a heated area of 100 square feet, our signature peel-and-stick uncoupling membrane and cable will total $942.35.
Improving the Energy-Efficiency of Your Floor Heater
Floor heating is an energy-efficient heating method as our systems use less energy to reach optimal comfort temperatures compared to traditional central heating systems. To maximize the efficiency of your heater, we recommend installing Insulation below the heating system. Our Ultralight Insulation is the only insulation designed for use with electric underfloor heating systems. The 3-in-1 product design offers insulating, heat-spreading, and decoupling all in a 1/4″ thick 2'x4′ board. Purchasing our Ultralight Insulation Boards to use with the DCM-PRO System over 100 square feet will cost $276.64.
All floor heaters require a system-dedicated heating controller to provide accurate temperature control and increased energy efficiency. To complete our underfloor heating package for kitchens, we'll select our award-winning 4iE Smart WiFi Thermostat which offers automatic heat functionality – helping to make sure your home is always at the right temperature, at the right time, for you. The 4iE with WiFi is $289 and $223 without.
How to Quickly Install UFH in Kitchens
Our collection of electric heating systems offers rapid installation times and the DCM-PRO System is the fastest-to-install heated decoupling system, featuring a self-adhesive backing that can be instantly adhered to the insulation. In a kitchen with a tiled floor finish and a heated area of 100 square feet, you can expect a complete installation in 1 – 2 days.
When hiring an installer to fit your underfloor heating system, always make sure you're using someone who has worked with underfloor heating before. The cost of installing floor heating varies by location but typically is $50-100 an hour.
Choose your Kitchen UFH Package
Below, you can find a precise quote for our classic kitchen floor heating package based on the popular options we have explored in this article. If you're interested in purchasing this package, simply click the button to complete the quote using our intuitive quotation tool
If you want to customize an underfloor heating package and create a quote for your home, you can input new details of your subfloor type, floor finish, and heated area size into the quote tool and our team will be happy to tailor an estimate to fit your needs.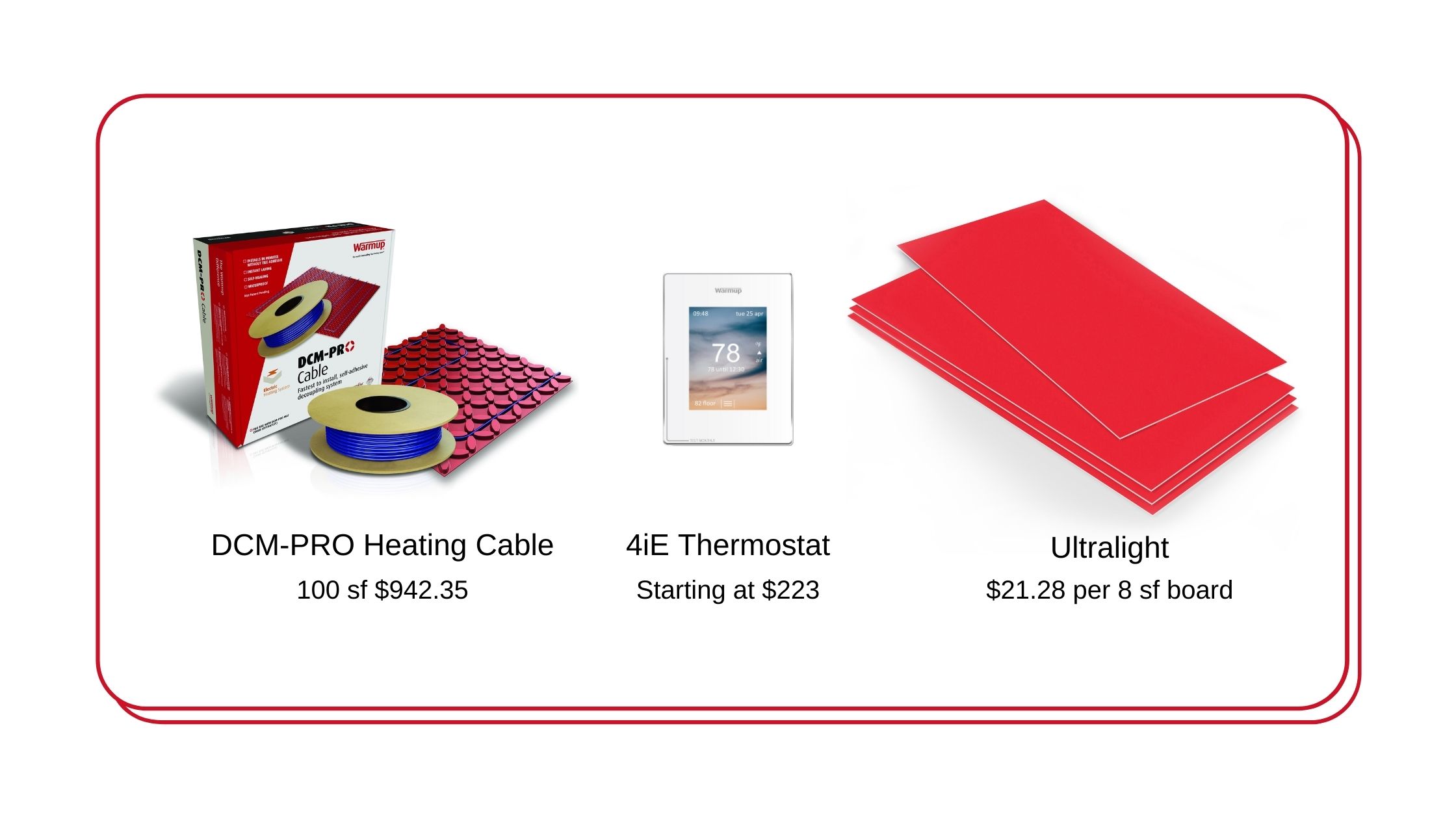 How do I Purchase my Heating System?
Once you've entered the details of your remodel project into the quoting tool and been supplied with the best complete underfloor heating system for your kitchen, you'll receive a quote via email. This will send you a breakdown of all the components you'll need. You can bring this to your nearest recommended Warmup retailer, the details of which will be provided to you, or you can give this document to your chosen installer so they can purchase the floor heating system on your behalf. Should you have any issues, you can contact us at 888-927-6333 for assistance in facilitating your sale.