Underfloor heating is increasingly popular, mainly due to efficiency and comfort reasons. Your choice of underfloor heating system depends on the type of installation as electric underfloor heating is better suited for certain projects and water based underfloor heating for others. The flow chart below takes you through a series of questions to lead you to the answer—which underfloor heating system is best for me, electric or water?

This flow chart generalizes what constitutes an ideal system for different projects and is intended to guide your decision, not to offer the definite solution. Our expert team is available to help you further when choosing between the two systems so if you have any questions, please do get in touch.
SUBFLOOR MATERIAL CONSIDERATIONS
Some of the questions to ask when choosing a system are: Is the subfloor suitable for an underfloor heating installation? And does it need to be strengthened or insulated? Underfloor heating systems work most efficiently with insulation below them directing heat upwards. This not only has a running cost implication but also allows the room to be heated more quickly.
FLOOR HEIGHT LIMITATIONS
Are there any height limitations which might prohibit certain systems being installed? Electric systems can be installed with little impact on floor height whereas wet systems may need a substantial change in floor height, or require the floor to be lowered before installation, especially if insulation is going to be installed. This is usually more of a concern when renovating as the floor height has already been established but needs to be taken into the plans for a new build too.
HEAT-UP TIME DIFFERENCES BETWEEN ELECTRIC AND WET SYSTEMS
If the room or the usage pattern requires for the floor to be heated very quickly, then an electric system is probably more suitable as heat from the underfloor heating wire transfers quicker to the floor finish than heat from an underfloor heating pipe installed in slab. If the floor is required to give out a slow steady heat, then a water system might be more practical as the slab acts as a storage heater heating up slower than an electric system, but also releasing the heat more slowly.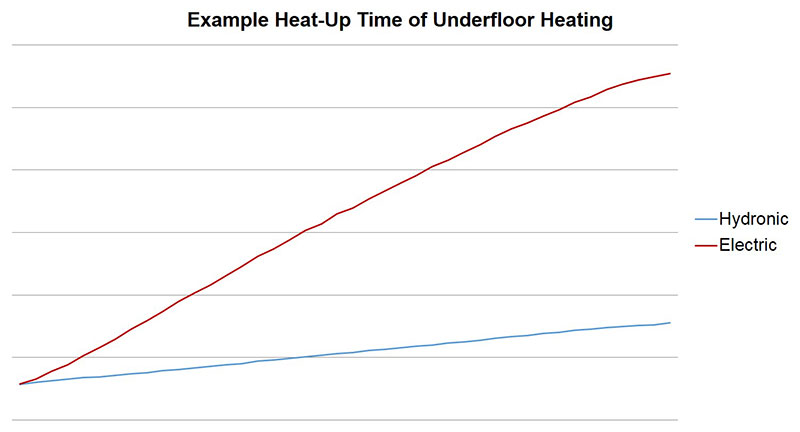 Electric systems heat up and cool down faster than water based systems. This graph shows an electric heating mat in 3/8″ (10mm) slab versus a water system in 2″ (50mm) slab.
SIZE OF THE HEATED FLOOR AREA
The size of the floor area will impact the installation type and time. For smaller areas (less than 25 square meters), it is generally more practical to install an electric system. In larger areas, including commercial areas, it is may be more economic to install a wet system.
INSTALLATION AND RUNNING COSTS
The installation cost of wet systems is usually higher than the installation of electric systems, but the running costs of electric systems are more often higher than those of wet systems. This is due to electricity being more expensive than gas or other sources of energy utilised when powering a water based system. Careful consideration should be taken to determine the overall costs, which depending on size and area, may mean one system works out cheaper overall. It should be noted that there are maintenance costs for wet system whereas there are none for electric systems.
ENERGY SOURCE AND SUPPLY
It is important to ensure that there is an adequate energy supply for either a wet or electric system. For wet systems, is there a boiler capable of supplying the wet under floor heating, not only in terms of capacity but also the correct temperatures? Also, check if the pipework can be moved or re-routed to accommodate the heating. With electric systems which cover a large area, it needs to be considered whether the electrical supply to the property is sufficient to accommodate the extra demand in amperage. It may also be worth considering whether there are renewable energy sources such as solar panels available to supplement the running costs of the system, especially if installing a wet system. A significant amount of hardware in the form of pipework and manifolds may be required for a wet system; it should be considered if there is a suitable location for the system components.
HEAT LOSS AND HEAT OUTPUT
The maximum underfloor heating heat output must be higher than the heat loss to ensure that the heat output is capable of heating the desired area. With a wet system, this might mean increased temperature out and higher flow rates and with an electric system it may require a higher wattage output per square meter. Insulation reduces heat loss so sufficient insulation should be installed when getting underfloor heating to ensure an energy efficient heating system. Well insulated rooms require less heat to be created reducing the running costs and promoting faster floor heat-up time.
ZONING AND HEATING CONTROL
If it is desirable to have many zones or rooms with individual and precise temperature control, then an electric underfloor heating system may be more practical. Smaller zones tend to be harder to install and control with wet underfloor heating and high precision of temperatures and programmable on-off times tend to be better with electric systems.
FLOOR FINISH
Finally, the type of floor finish needs to be considered. For floating floors including wood, vinyl and carpet, a lower temperature system is generally required to ensure that the floor surface does not exceed 27 degrees. This may require lower water temperatures (using mixing valves) or lower wattage output electric heaters. These floors also benefit from an installation medium to disperse the heat evenly, this may require a screed, metal plates or foil below the floor finish.
Now that you know which system to choose, try our Underfloor Heating Product Selector to find the right products for your project.