What is Continuing Education?
As Professional Builder magazine underlines, "Most certifications require continuing education in order to maintain certification. This helps keep you current and teaches new skills […], preventing you from becoming obsolete. […] Companies depend on their employees to retain a competitive advantage", especially nowadays with the tougher competition. Continuing Education is a win-win for both the employee and the employer.
What is the FREE Designers Architects CEU course about?
The FREE continuing education course explains how electric underfloor heating works and offers guidance on how to select and design a system for residential and commercial projects. Geared towards architects, designers and specifying engineers, the course highlights how electric underfloor heating can be used as a primary heat source in a room, or in the entire dwelling. Warmup monitors 11 homes worldwide, entirely heated with radiant systems as part of its Post-Occupancy research project.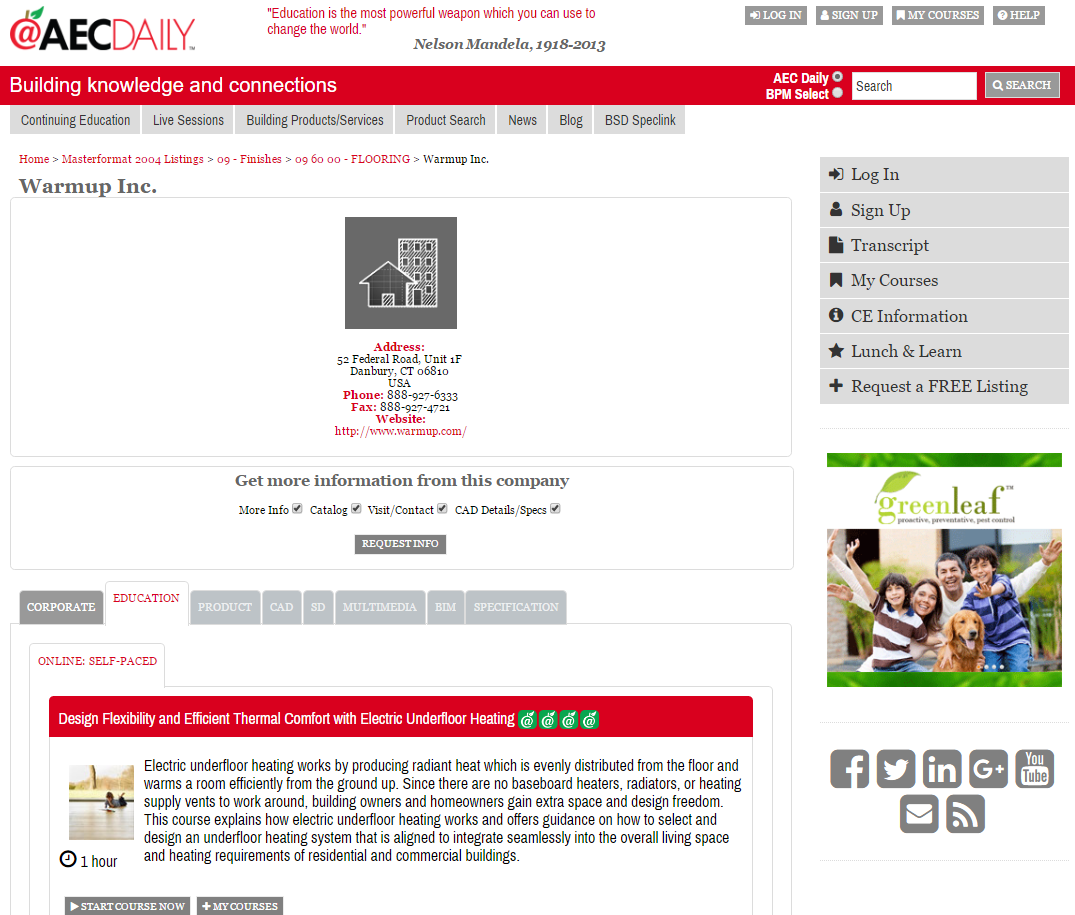 Who is AEC Daily?
With over 15 years of experience, AEC Daily is one of the largest sources of FREE continuing education courses for architects, engineers, contractors and other construction professionals. The Warmup Inc. continuing education course, Design Flexibility and Efficient Thermal Comfort with Electric Underfloor Heating is now live on AEC Daily's Online Learning Center (OLC). You may view the course here http://aecdai.ly/warmup-learn.
"Education is essential for our category" says Regis Verliefde, Warmup Territory Director. "It is easy to convince consumers of the luxury of bathroom floor heat, but it is another matter to help the specifying community design an entire space with heated floors as a primary heat source. It is our specialty and we look forward to connecting with architects and designers through AEC Daily."
Warmup's course provides a continuing education unit (CEU) with the AIA, NKBA, NARI, NAHB and IDCEC. It also qualifies as a green course under the USGBC program.
Editor's Notes
Warmup PLC is a certified ISO 9001:2008 UK Manufacturer, creating and delivering electric and hydronic underfloor heating solutions. We have sold over 2 million systems in more than 60 countries in over 21 years of trading. Warmup combines high-grade heating cables, proprietary Smart WiFi controls and efficient insulation to supply contractors and homeowners with a reliable primary heat source for the cold room and the whole house. A focus on efficient heating is what has made Warmup the world's best-selling floor heating brand today.
Warmup Inc. is the right arm of Warmup PLC and is located in Danbury, CT.