Wet Rooms are an increasingly popular trend, greatly improving on the functionality of a typical bathroom. Warming the cold tiles of a wet room with floor heating enhances the sense of luxury and cleanliness of the room.
In this guide, we'll explain all you need to know about heated shower flooring and heating a wet room, including:
The benefits of using floor heating in a wet room
The best way to install underfloor heating
If you can use underfloor heating with a shower tray
How to waterproof your wet room
The perfect wet room accessories
The best heating systems to use
Benefits of Underfloor Heating in a Wet Room
Wet rooms are a contemporary take on the domestic bathroom, with an 'open-plan', unconfined shower that drains directly into the floor. Due to their open, spacious nature, wet rooms are ideal to be heated with an underfloor heating system.
Floor heating provides an 'invisible' heating solution meaning you no longer have to design your wet room around a bulky, cumbersome heater. Heating your wet room's floors also provides a greater sense of comfort and wellness to the room. Wet rooms are almost always designed with tiled floor and walls which even in warmup areas, tend to be cold to the touch. With underfloor heating, cold tiles under your feet are a thing of the past.
Floor heaters are also much more energy-efficient than central heating systems. Especially when used a system with one of our Smart Thermostats, underfloor heating can help homeowners cut energy costs.
Heating a Tiled Floor
Wet rooms are typically tiled from floor to ceiling with fully waterproofed sealant and grouting to maintain a non-permeable surface, which keep the water from penetrating the subfloor and walls. The most common types of floor tiling to use in a bathroom are ceramic and porcelain, to find out more about the differences between these two finishes read our blog Porcelain vs. Ceramic Tiles for Underfloor Heating.
Tiles have a high thermal conductivity which makes tiled floors perfect to be heated by an underfloor heating system. Tiles heat up quickly and retain this heat, meaning a fully tiled wet room can be efficiently transformed into a warm, cozy environment in which to relax.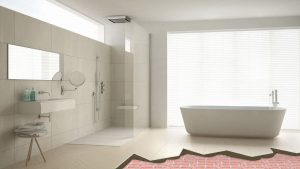 Installing Underfloor Heating in a Wet Room
Whether you are renovating and adding underfloor heating into an existing wet room, converting a bathroom into a wet room or creating a wet room as part of a new-build construction project, Warmup provides a range of suitable heating options.
A Warmup system can be quickly installed in your wet room by a qualified installer in as little as one day. Whilst installation can be simple and hassle-free, due to the nature of wet rooms, we advise speaking to an expert for more information on how to achieve a successful first-time wet room installation.
Installing a Heated Shower Floor
A warm shower tray underfoot as you take a relaxing shower is a wonderful experience and with Warmup's floor heat, you can bring this touch of luxury to your wet room.
There are some things to consider if you are pursuing this heating solution. When using an electric system, you will need a build-up of at least 12mm of leveler and floor finish above the system to be able to conduct the heat safely and efficiently – installing a shower tray directly on top of the system would mean the heat cannot escape, resulting in the system burning out. Get in touch with us if you have any queries or concerns.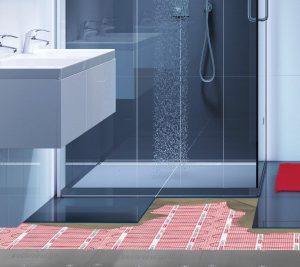 Waterproofing Your Wet Room
An important step during wet room construction is proper waterproofing. The Warmup waterproof membrane is highly recommended for wet rooms. The membrane, sold in a kit to cover a standard wet room, has a 3-ply buildup designed to protect against substrate cracks and moisture migration.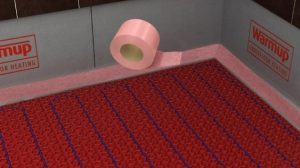 Secondary Heat Sources for a Wet Room
As well as heating your wet room's floor and shower tray with a floor heating system, wet rooms are also the perfect space in your home to install other Bathroom Accessories.
Bathroom Accessories for a Wet Room
Heating accessories to consider installing in your wet room include Warmup's range of Mirror Defoggers and Heated Towel Warmers.
The Mirror Defogger is perfect for keeping mirrors in wet rooms free from steam after a hot shower. The Heated Towel Warmers feature Warmup's advanced heating wire technology which rapidly dries towels dampened by wet room moisture, keeping them gently warmed and toasty.
Best Systems for Heated Shower Flooring
Whether you are building a wet room from scratch or renovating and adding underfloor heating, Warmup offers a variety of electric underfloor heating systems to consider.
Electric Systems
Our Electric floor heaters offer an energy-efficient heating solution for your wet room. Warmup's range of systems bring gentle, radiant warmth to cold wall and floor tiles.
The DCM-PRO System is the ultimate electric floor heating system to use with tiled wet rooms. It offers a fast, even heat output and features a unique anti-fracture matting, which can help protect and prevent floor tiles from cracking due to subfloor movement. Utilizing the DCM-PRO Waterproof Tape with this system is also always recommended for wet room specifications as it greatly enhances the impermeability of the heater.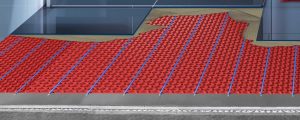 The StickyMat System utilizes a self-adhesive backing for rapid installation times. At 1/8″ thick, the heating mat is great for situations where you are concerned about raising floor height.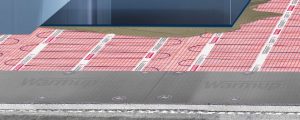 Costs
Heating your wet room with an underfloor heating solution offers enhanced energy-efficiency and long-term cost savings too. Floor heating typically has lower running costs than central heating systems and a heated wet room is a more environmentally-conscious way to heat your home.
A Warmup heater with accompanying insulation and a Smart Thermostat can be purchased from as little as $9.35 per square foot and with rapid installation times, you could have the wet room of your dreams for less than you may have thought.