Vinyl plank flooring is a popular choice among property owners. It looks great, it's affordable, and it's easy to install. What about radiant heating? Can you put vinyl planks over radiant heat? Yes! In fact, one of the best flooring options for radiant heating is vinyl plank flooring. Radiant heating provides heat directly to your floor panels. In this article, we will discuss what a radiant floor heating system is and why vinyl plank floors work well with it.
What is Vinyl Plank Flooring?
Vinyl plank flooring is a popular flooring option because there are many varieties to choose from, and it's a great DIY project because it is so easy to install. It's composed of polyvinyl chloride resins (PVC), which are melted down and combined with various other components, such as stabilizers and fungicides, to make it long-lasting and resilient.

Vinyl planks come in long, narrow strips, rather than the traditional square tile shapes. It is a multi-ply product that features four layers:
An aluminum oxide topcoat to protect against scratching
A clear protective film that prevents more serious ripping and tearing
A visual layer intended to replicate the look of wood or stone
The vast majority of the total thickness of luxury vinyl is a rigid backing layer composed of almost 90%-pure vinyl.
The size of a vinyl flooring plank is usually 3′ or 4′ long. The width of most planks ranges from 4 to 7-3/4 inches, although some can be as large as 9-1/2 inches wide.
What is In Floor Radiant Heat?
Radiant floor heating is a heating system that exists beneath flooring surfaces. The systems are popular because they are efficient and can be used in both new construction and retrofit applications. This type of in floor heat is available utilizing 2 methods:
Electric radiant floor heating systems use electric cables or mats installed under the floor. The mats or cables heat up and radiate heat to the floor above.
Hydronic radiant floor heating systems use hot water circulated through plastic, iron, or copper tubing installed under the floor. The hot water radiates heat to the floor above.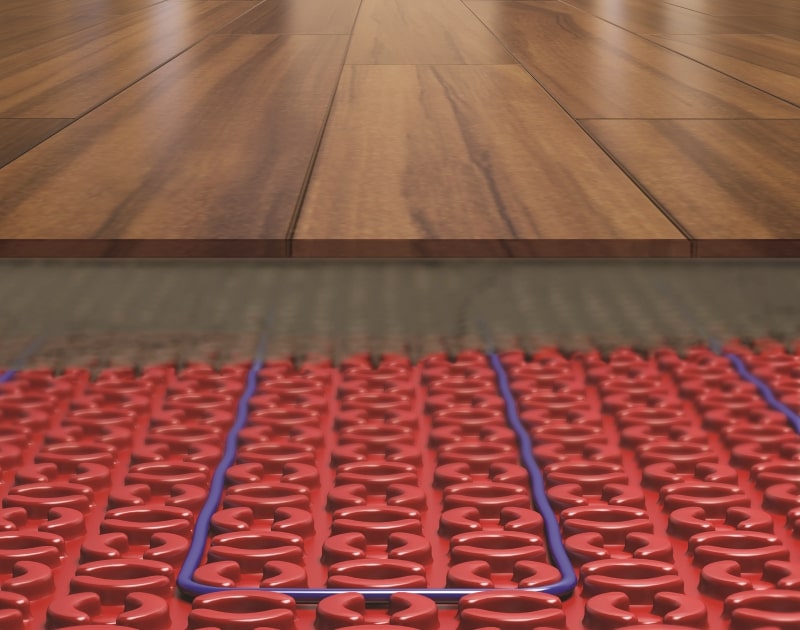 Both types of floor heating systems can be used with vinyl plank floors. Hydronic systems are typically used in new construction because of the extensive use of plumbing pipes, while electric systems can be easily installed in both remodeling and new construction.
Can Radiant Floor Heat Be Used Beneath Vinyl Flooring?
Vinyl flooring is safe to use with a heated floor system. Vinyl floors are composed of PVC (vinyl), fiberglass, and plasticizers, as well as the print layer and cork or foam backing. All these substances can tolerate temperatures up to 85 degrees Fahrenheit. However, to prevent shrinkage or color degradation, it is advised that the temperature be kept below 80℉. Maintaining heating within these restrictions is easy with Warmups range of thermostats designed to work with any type of flooring.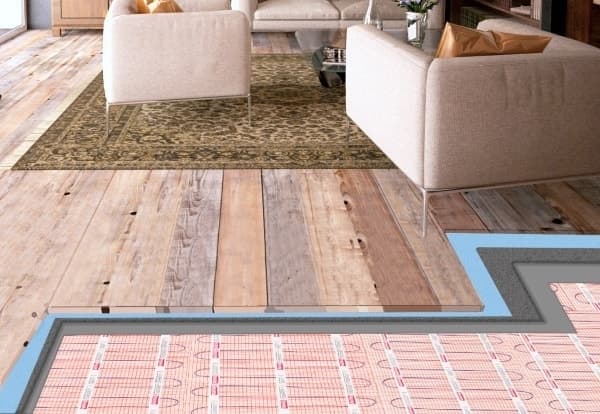 Heated flooring uses radiant heat transfer, which means the heat is carried through the floor and radiated into the space. Vinyl isn't as efficient as ceramic and stone at conducting heat, but because of the thin layers, vinyl floors are quick to warm up and cool down. Vinyl floors are often made from 2mm, 4mm, or 8mm vinyl. To properly transmit heat, the vinyl should not be thicker than 5mm.
When it comes to installing vinyl, one of the most important factors to keep in mind is that it necessitates a flat, smooth, and level surface. Laying vinyl over a heated flooring system would be similar to laying it on an uneven subfloor. As a result, a leveling compound must be used over the top to provide a consistent flat surface.
Benefits of a Heated Vinyl Plank Floor
Even, Comfortable Heat
Radiant floor heating provides many benefits not available with traditional forced air systems. Traditional forced air systems cause heat stratification in the space as the hottest air gathers near the ceiling, and cooler layers develop as the heat moves towards the floor.
Radiant systems don't heat the air, but rather the floor itself and thus the objects above it – furniture and people. Therefore, it takes less heat from the radiant source to provide the same level of comfort produced with traditional systems.
Best Spaces for Heated Vinyl Plank Flooring
VInyl plank flooring can be used in any room in the house. Many people use vinyl planks throughout the entire home. However, if you are going to use it in the bathroom, you need to be sure that the product you are purchasing is waterproof. Most floating LVT floors are waterproof, but glue down vinyl may not be.
Choosing the Right System
If you are replacing your existing flooring with vinyl plank, you should consider using electric under floor radiant heat for a few reasons:
It only raises the height of the floor by ½" or less, depending upon the application.
A smart thermostat may control the area where it is installed. You can independently change the heat level in one room, rather than having the entire system run to warm it.
It is easy to integrate into your current electrical system.
Most of the system may be installed by a skilled handy person, with the exception of the final electrical connections.
Work with Warmup for the Best Radiant Heating Options Under Vinyl Plank Flooring
It's important to work with a company like Warmup, who can provide you with the best radiant heating options for your vinyl plank flooring installation. Warmup offers a wide range of products designed to work with vinyl, but their team of experts can help you choose the right system for your needs and answer any questions you may have about installation or operation.
Radiant heating is a great way to improve the comfort of your home, and Warmup is the best company to work with to get it done right. Contact us today for a free quote.