Heated Laminate Floors
Installing an underfloor heating system under wood flooring is an ideal way to enhance the natural luxury of a beautiful wood floor. The gentle heat created adds warmth and comfort to any room. Warmup electric systems can be used with wood flooring and laminate flooring. Our wide range of products ensures that you have the perfect solution for wood and laminate floor heating.
---
Wood and Laminate Floor Heating
A maximum floor surface temperature of 81°F (27°C) should not be exceeded. This top temperature restriction is secured by using a thermostat which controls the heating system. Our thermostats are specifically designed for use with and to protect your flooring and automatically and consistently keeps your floor surface at a safe and pleasant temperature.
You should also note that this maximum floor temperature means a certain maximum heat output so if you're thinking of using underfloor heating as the sole source of heat, you should get a heat loss calculation done in order to ensure that underfloor heating meets the room heating requirement.
Warmup has conducted extensive testing with major manufacturers and suppliers of wood and laminate floors. We have electric heating solutions for virtually any installation type. Heat any shape or size of room, under laminate, engineered wood and other floating floors, using Warmup FOIL Heating Mats!
---
Wood Flooring for Underfloor Heating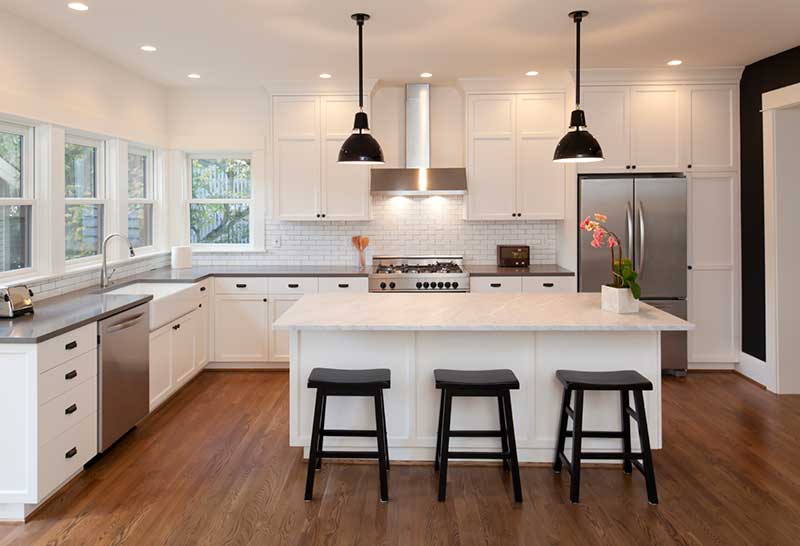 When choosing the wood or laminate flooring, it is important to ensure good thermal conductivity, which is best when using more dense wood. The thinner the flooring material and the higher the density, the shorter the heat-up time and more responsive the system will be.
We recommend that wood or laminate thickness should be no more than 18mm as any thicker than this will hinder the efficient performance of the system. When it comes to the board width, wider boards will often show more "movement" than more narrow boards of the same material, so we recommend that the ratio of thickness to width should be in the region of 7 to 11. A board with a thickness of 16mm and width of 160mm would give a ratio of 10, so is ideal.
You should always check with your wood flooring supplier to check for suitability for use with underfloor heating.
---
---
Everything above the heater, including underlay, overlay and final floor finish needs to be within the limits set in the table below. If the manufacturer of the wood flooring states that it must be used in conjunction with an underlay, the underlay must be no more than 3mm – 6mm thick and breathable.
When using the system with wood flooring, care should be taken to ensure effective performance of the system and we do not recommend installing the system if the limits below are not met. This may hinder the performance of the system and result in the system not working as desired.
Transfer of heat limits
Tog
No more than 2.5
RSI 
No more than 0.25
R-Value (US)
No more than 1.42
U-Value
No less than 4.0
---
Find the Right Product for Wood Floor
Ready to Purchase a System?