The winter months are often the time you're forced to stay indoors because it's simply too cold to stay outside. Many homeowners put a lot of effort into creating a comfortable and inviting patio area, just to see it unusable when the temperature drops below freezing.
Wouldn't it be great if you didn't have to lose access to this area of your home every winter? Wouldn't it be ideal if there were a way to make your patio people-friendly year-round?
Luckily, there are actually some easy and practical solutions to this problem. Don't let freezing temperatures take away your favorite place to sit and relax this winter.
Here are several simple ways to keep your patio clear of snow and ice:
Heat Lamps and Lanterns
The best way to combat freezing temperatures is to add a little heat. Simply put, fire and ice don't mix, so if you want to keep your patio free of sleet and snow, you might want to add some flames to your décor.
Installing heat lamps and lanterns is an ideal, cost-effective way to add heat without taking up too much space. You've probably seen them used in outdoor patio areas at restaurants, bars, and cafes. They provide tons of heat and are relatively easy to store during warmer months.
Portable Fire Pits
Portable fire pits are another excellent solution to creating fire and keeping your patio snow and ice-free. There are few things quite as fun and relaxing as snuggling up around a fire pit on a cold night. You can roast marshmallows, drink wine, listen to some tunes, or tell spooky stories – whatever fits your vibe!
On top of that, fire pits also enhance your outdoor aesthetic, creating a fun, warm, and inviting atmosphere. With the right outdoor furniture, some cozy blankets, and the people you love, a relaxing night by your portable fire pit is an ideal way to spend an evening.
Custom Fireplaces
If you want to step it up a notch, custom fireplaces are definitely the way to go. They add an eye-catching, focal point for your patio or backyard. Plus, when it comes to producing enough ambient heat to melt all that pesky ice and snow, you can't go wrong with an outdoor fireplace.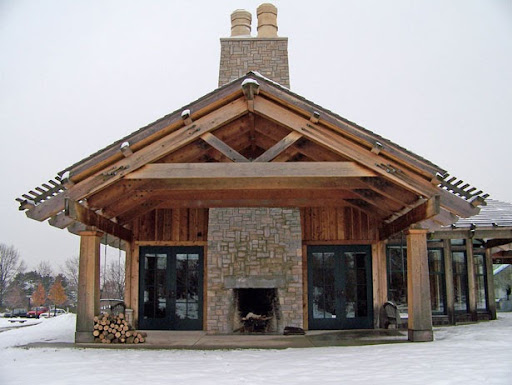 The only potential disadvantage to this solution is the expense, but you'd be surprised to learn that many custom fireplace options won't break the bank. In fact, you could even make it a relatively inexpensive DIY project and have some fun creating one yourself.
Just like a fire pit, a custom fireplace adds a ton of character to your design aesthetic and gives you a cozy space to sit and relax, even when the temperature drops below freezing.
Snow Melting
Unfortunately, when the temperature drops too low, even some of the most high-end fireplaces, fire pits, heat lamps, and lanterns won't be enough to melt the ice and snow from your patio.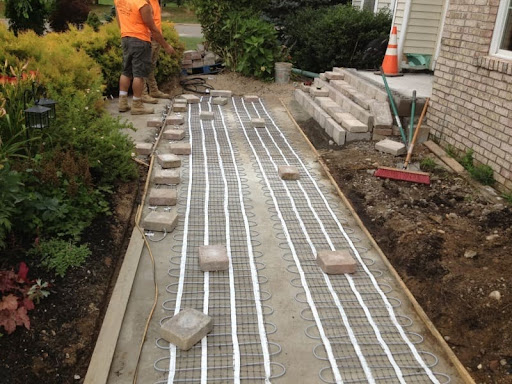 It's also important to remember that standing ice and excess snow is not just uncomfortable. It's also a potential hazard and, if left untreated, could cause severe damage to you, your family and friends, or your home.
If you're looking for the best way to keep your patio ice and snow-free, you've come to the right place. Warmup's snow melting technology melts snow and evaporates water to prevent ice buildup, making it the ideal solution for your snow and ice melting needs.
Heated Mats
Heated mats are electric underfloor heating and cable systems that generate heat to warm the ground enough to melt standing ice and snow. The mats are triggered automatically based on ambient temperature, so you don't have to worry about manually turning them on and off.
Also, they can be installed directly beneath pavers, asphalt, and concrete, making them an ideal solution for melting the ice and snow on your patio.
Unlike the other solutions listed above, you don't have to worry about stocking wood, propane, or other fuel sources. Heated mats are powered by electricity, and only utilize enough to generate the appropriate amount of heat required to warm your patio floors.
Heated Patios, Sidewalks, and Walkways
You're focused on keeping your patio snow-free, so you might as well extend that solution to your sidewalks and walkways, too. After all, you have to walk there, as well, and slipping on ice in the middle of your walkway is definitely no fun.
Warmup's snow melting mats are the ideal solution to all your winter problems. There's no area too cold, too large, or too exposed that this technology can't handle.
Underpavers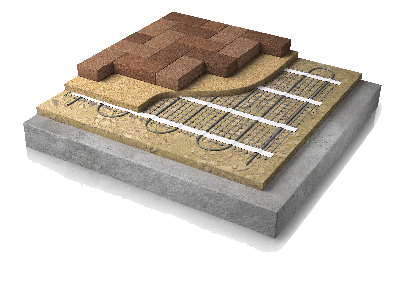 If you use pavers in your patio or walkway, heated walkway pavers are the solution for you. During the installation, snow melting mats will be placed on the ground and then covered with an inch or more of fine gravel or sand. The pavers are then placed in a layer above that, to create a stylish and finished look.
Concrete and Asphalt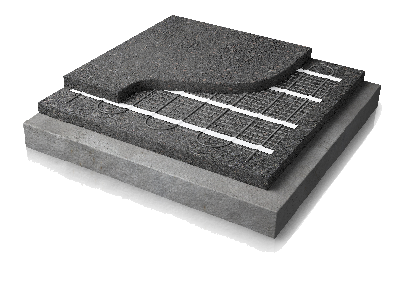 If your floors are made of poured concrete or asphalt, the installation process is a little different. The heating mats can be placed directly on a layer of asphalt and concrete and then covered with an additional two inches of material. If you're replacing the walkways entirely, the mats can be placed directly on the ground and then covered with a new pour.
Ice and Snow Melting Systems from Warmup
If you're interested in shopping for top-of-the-line snow melting technology to keep your patios snow and ice-free, you've come to the right place. Warmup has been the technological leader in both indoor and outdoor heating for decades. Get a free quote today!