With soaring energy prices, using energy more efficiently is key to keeping heating bills manageable. Making your home more sustainable and energy-efficient is good for the environment and will keep your heating bills low too. Choose energy-saving upgrades today so you can start to enjoy your lower heating bills immediately.
How Can I Improve My Home's Energy Performance?
Ensuring that your home uses energy more efficiently will keep your heating bills lower and make your home more comfortable. One of the first parts of your home to look at is the insulation. Insulation acts as a blanket to keep heat trapped in your home. Without insulation, heat can leak through your floors, walls, and ceiling, requiring you to pay more to heat your home. Keep the cold air out by inspecting and upgrading the insulation in your home.
Walls have thick layers of insulation to keep the cold out, but windows don't. While windows make homes more enjoyable, large windows can be parts of the home where much of the energy is lost. Inspect the seals around your window to ensure cold air is not seeping in. Additionally, consider double or triple-glazed windows to keep your windows as efficient as possible. Insulated curtains are a great way to keep windows energy-efficient when they are not in use too. Any of these options will help decrease your home's heating bills.
Keeping more of the heat in your home is important, and updating your heating system is another way to dramatically decrease your heating bills. Radiant underfloor heating is a cleaner, more efficient way to keep your home comfortable compared to traditional heating systems. Warmup's underfloor heating solution is easy to install and can save 1621 kWh of energy per year. With the increasing cost of energy, those savings can be substantial.
Reduce Your Energy Usage by 25% With a Smart Thermostat
Compared to basic thermostats, smart thermostats can reduce energy usage by 25% through better control of your heating system. Smart thermostats give you better control of when and how much various parts of your home are heated. With smart thermostats, you only pay for the heat that matters by using optimized multi-zone heating to only heat rooms when you are using them.
Warmup has a collection of thermostats to make your home more comfortable while saving you money. Our 6iE Smart WiFi Thermostat is the world's first underfloor heating controller with a Smartphone touchscreen and provides intuitive and automatic control of your heating to reduce wasted energy. Looking for something simpler? The Terra WiFi Thermostat is our latest innovation in floor heating control, offering all of our smart energy-saving features, in a beautiful and easy-to-use package.
The 4iE Non-Wifi Smart Thermostat for central heating systems is perfect if you're looking to upgrade your heating system and want to enjoy the benefits of Smart technology without the need for Wi-Fi. Using a Warmup Smart Thermostat alongside our MyHeating Smartphone app could save you hundreds of dollars a year on your energy bills.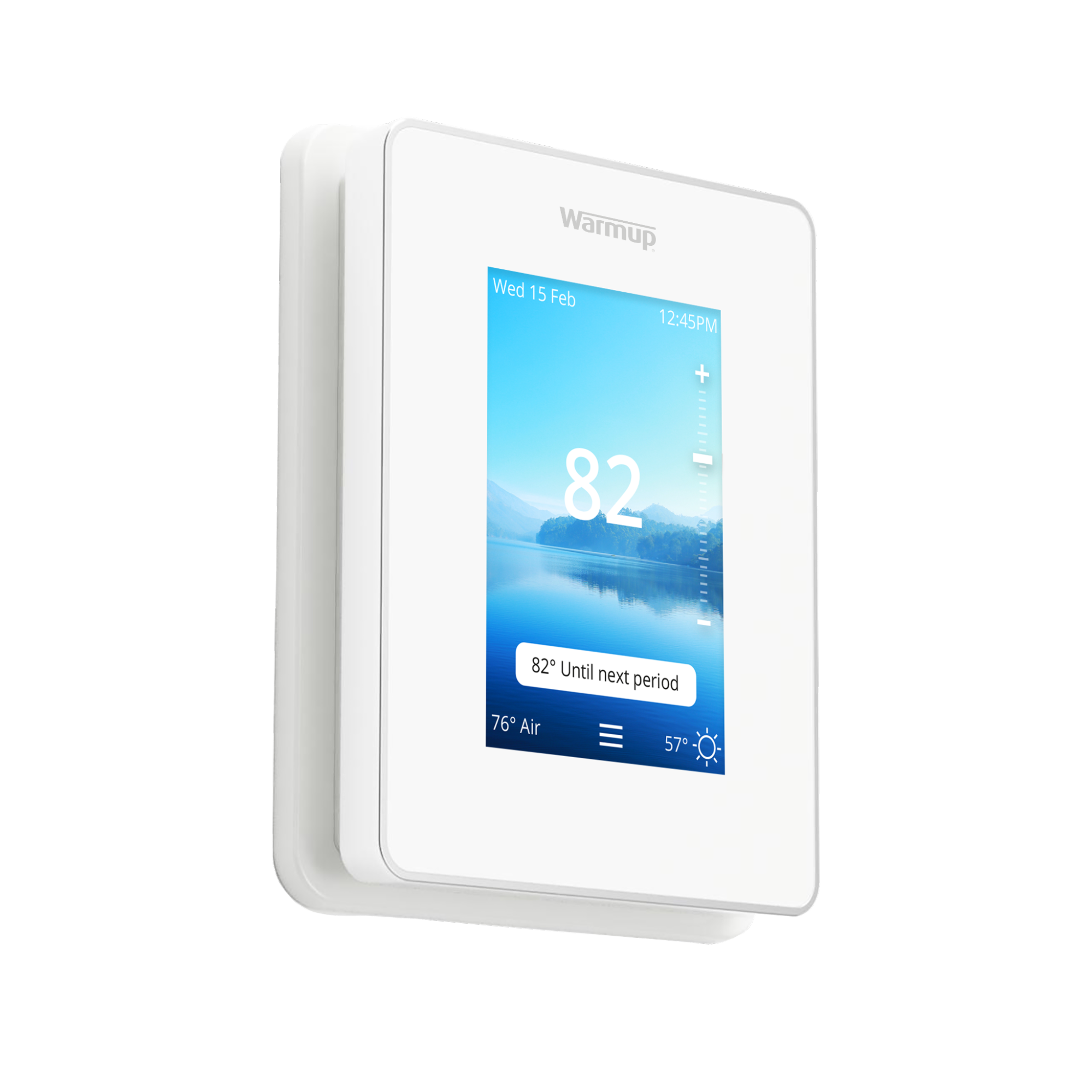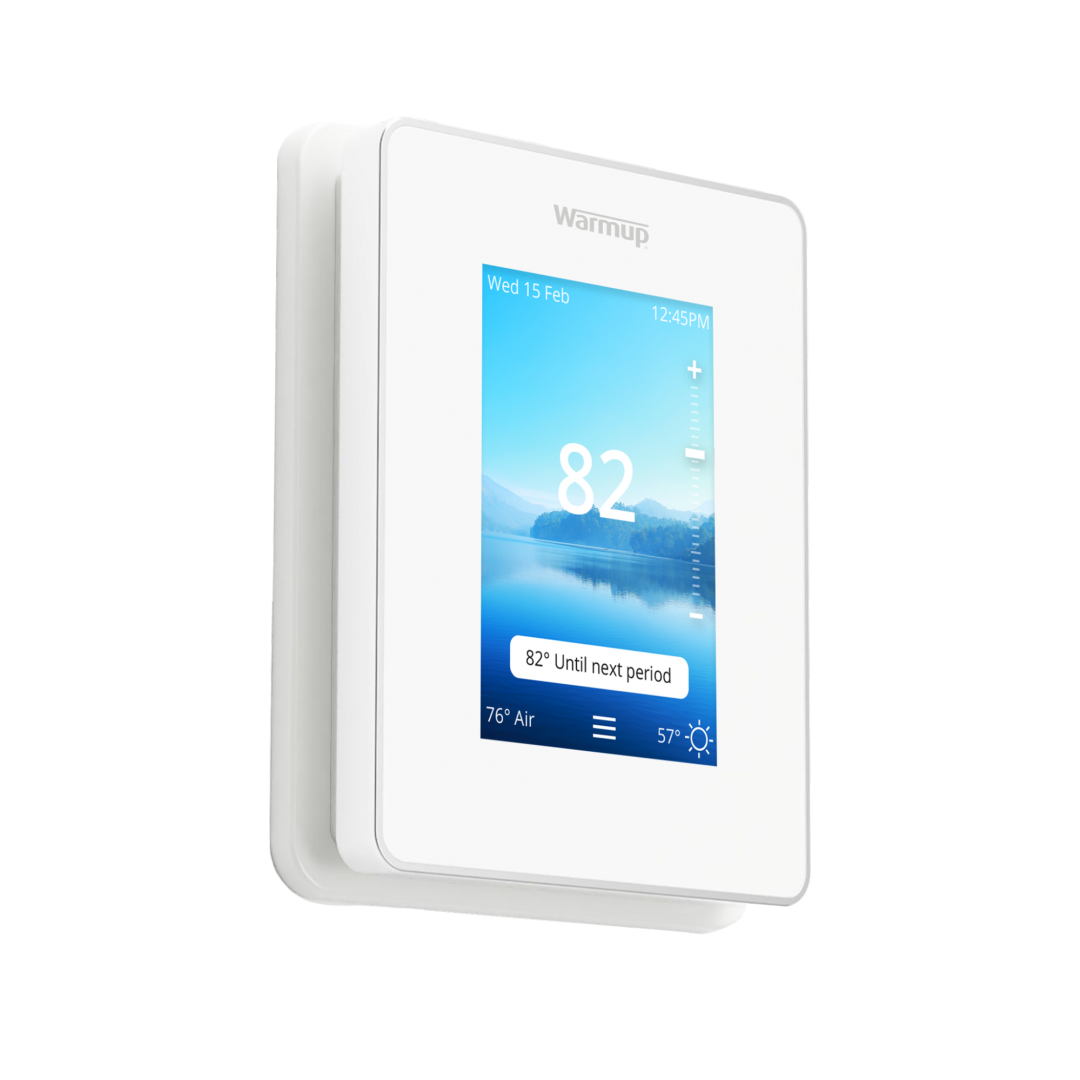 What Are Some Long-Term Things I Can Do to Future-Proof My Home Against Rising Prices?
Energy prices look to be steadily increasing. Making long-term changes to reduce energy usage can help future-proof your home from rising heating bills. Luckily, there are many options to increase your home's sustainability and energy efficiency.
You could consider installing a new heat source that makes use of renewable energy such as a ground or air-source heat pump, a biomass boiler or a solar thermal system. Coupled with solar panels and storage batteries, these options maximize energy efficiency and sustainability. These energy-saving measures can be expensive to install but they will lower the carbon footprint of your home and can lessen the impact of energy-market disruptions. Electric energy in some areas may be more expensive than gas, but as the energy sector develops more low-carbon technologies, this may not always be the case.
Reduce Your Heating Bills by 40% with Underfloor Heating
Homes with underfloor heating are more comfortable and up to 40% more efficient than homes using central heating systems. Houses with correctly designed underfloor heating can take advantage of the radiant effect, which warms people with infrared energy, rather than just warming the air. This means the same feeling of warmth can be achieved with lower air temperatures, which reduces energy loss by around 10%.
Want to learn how much you could save with underfloor heating? Find out more about the running costs and savings with a Warmup system.
How Does Floor Heating Improve Energy Efficiency?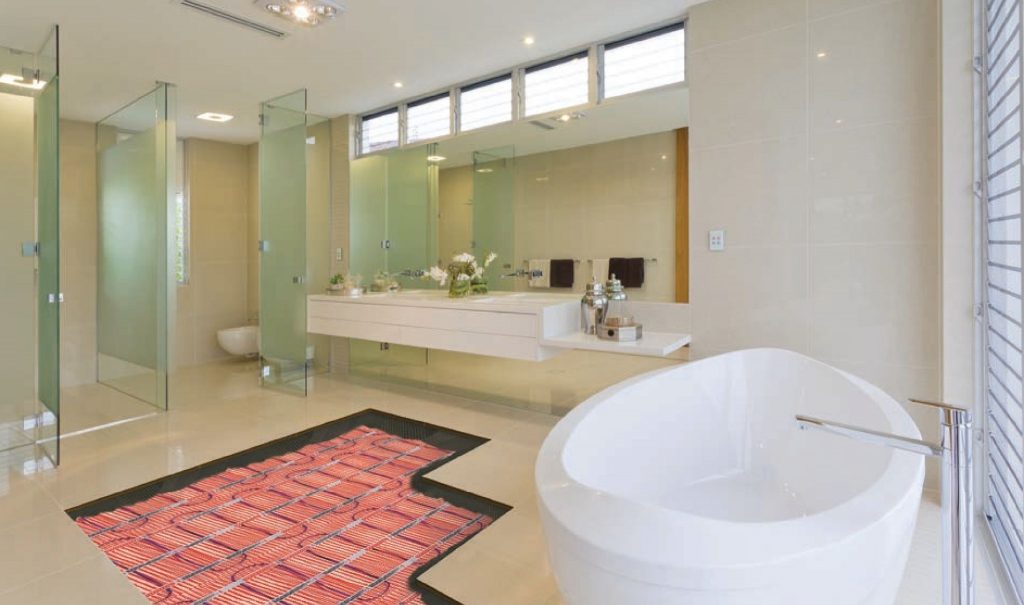 Floor heaters utilize radiant heat technology to heat a room in a much more energy-conscious and efficient way. Radiant heating warms a room from the ground up and directly into the objects and people in the space, as opposed to central heating which focuses on heating the air of a room, which wastes significant energy.
Underfloor heating systems also have quick heat-up times and run at lower temperatures than central heating systems, while still maintaining the same level of warmth. These efficiencies let underfloor heating systems reach ideal comfort levels while requiring less energy. This energy-efficient technology can dramatically reduce the carbon footprint of your home.
Does Underfloor Heating Work with Solar Power?
Solar power and underfloor heating are a great combination. When coupled with batteries for an energy storage system, solar power charges the batteries which can then be used to power underfloor heating zones throughout the home. The Sun warms people in the same way as underfloor heating, by using radiant heat. Solar power and underfloor heating systems are basically storing the heat from the Sun to warm your home later. Any solar project should consider underfloor heating to maximize energy efficiency.
Reduce Your Energy Bills with Underfloor Heating from Warmup
If you want to enjoy the long-term cost savings of underfloor heating, get a free instant quote today. Our innovative online quoting tool will find the best heater for your home and tell you exactly how much it will cost to purchase. With Warmup's new Ultralight 4-in-1 insulation and other innovations, underfloor heating has never been so efficient!
Suitable for both renovations and new-build projects, Warmup's radiant heating solutions can be used with almost all floor finishes and are simple to install and easy to use. Reach out to Warmup today to learn how underfloor heating can help lower your heating bills.