Do you live in an area where the temperature consistently drops below freezing, forcing you to endure frigid temperatures, snow, sleet, and ice? If that's the case, you're probably desperate for some countermeasures to keep you and your family safe and warm.
Even people who absolutely love snowy weather understand the necessity of proper heating systems, and excellent heating doesn't stop with the inside of the home. To maintain a safe and comfortable environment, you also need to heat your outdoor areas, including porches, driveways, decks, walkways, and stairs.
Why Choose to Heat Your Outdoor Stairs?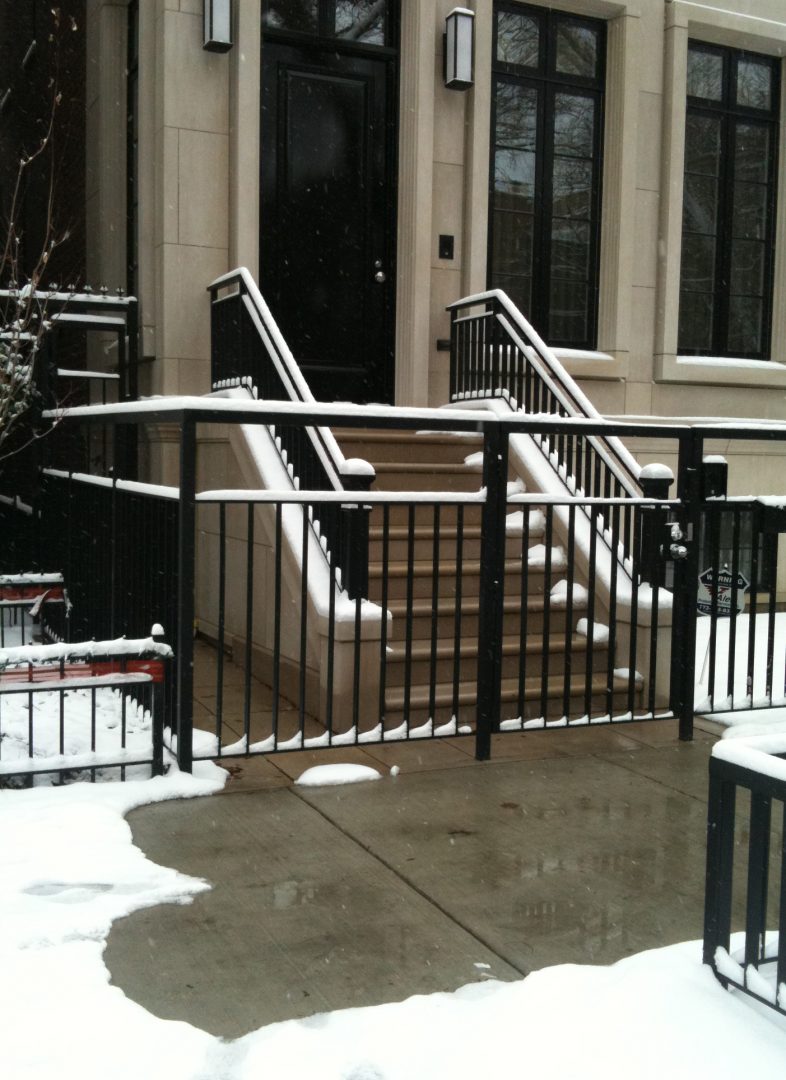 When the temperatures drop below freezing, and it starts to snow, it can put your indoor heating systems to the test. However, what's happening inside the home is nothing compared to what's happening outside. For example, when your outdoor stairs are covered in snow or ice, they can become incredibly slippery.
Slippery stairs can be highly hazardous, and they can put you, your family, and your guests at risk. That's why so many homeowners, contractors, and builders are choosing to heat their outdoor stairs. If you keep them free of ice and snow, you're ensuring the safety of anyone who uses them.
What is Radiant Heating?
Radiant floor heating is an innovative heating system that generates warmth from the ground up. These systems are typically used indoors to create evenly distributed heating from floor to 6 feet, and outdoors in driveways, walkways, and staircases to melt snow.
Radiant floor heating is incredibly beneficial because it provides heating at a lower cost than other methods. It's easy to install, saves space, and is incredibly energy efficient, making it better for both the environment and your wallet. It's much safer than a lot of other heating methods by providing even heating from floor to ceiling without the use of natural gas.
How it Works
There are two different types of radiant heating. The first is called "hydronic" radiant heating. This type of heating utilizes tubes that are filled with heated water. The water generates the heat through the floors and subsequently melting the snow or heating the home.
The second type is called "electric" radiant heating. This type utilizes cables that are run beneath the floor and are heated using electricity. The cables heat the floors, and as the heat rises, it melts the snow or warms the entire home.
Can Radiant Floor Heat Be Used Beneath Outdoor Stairs?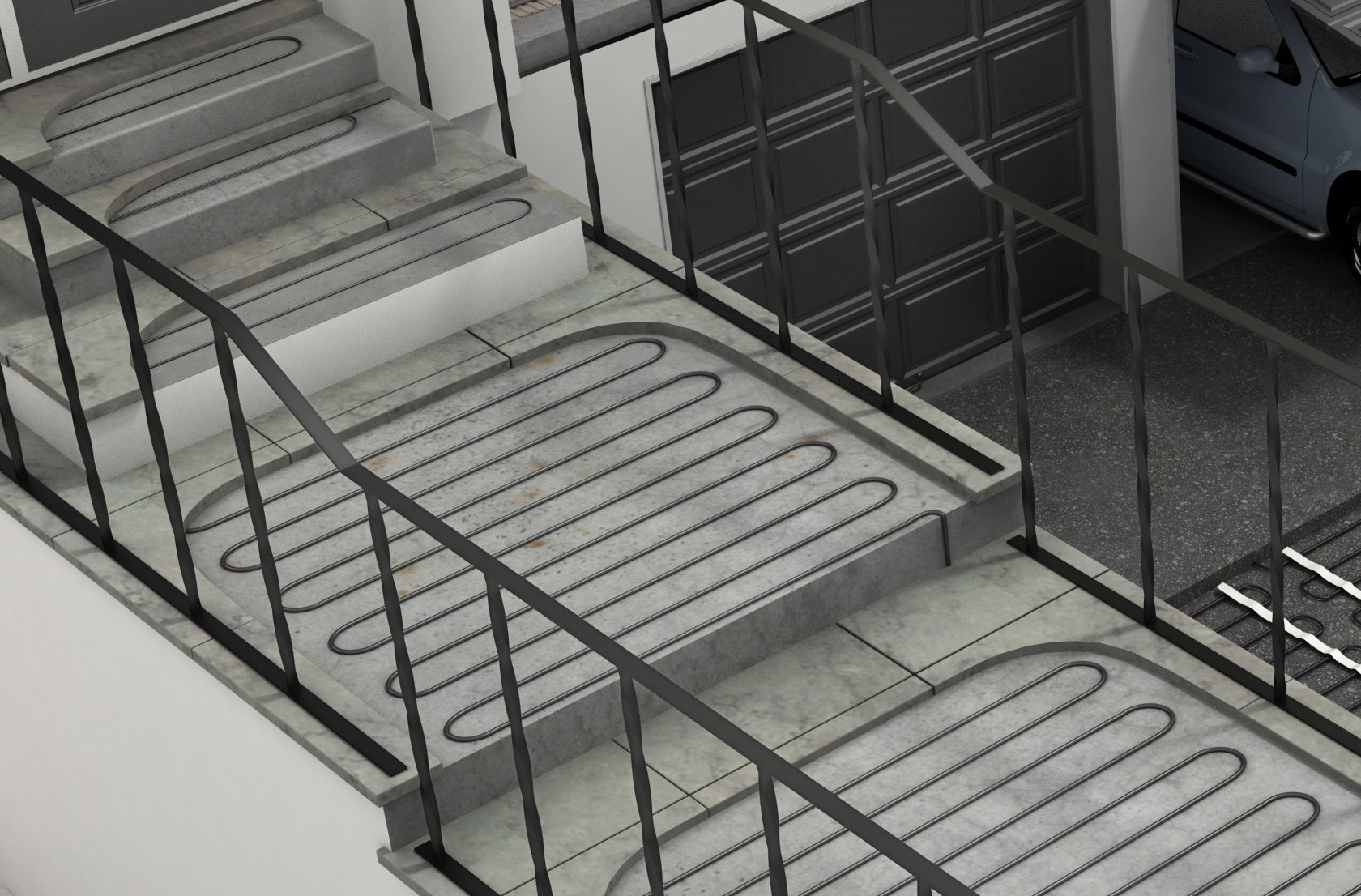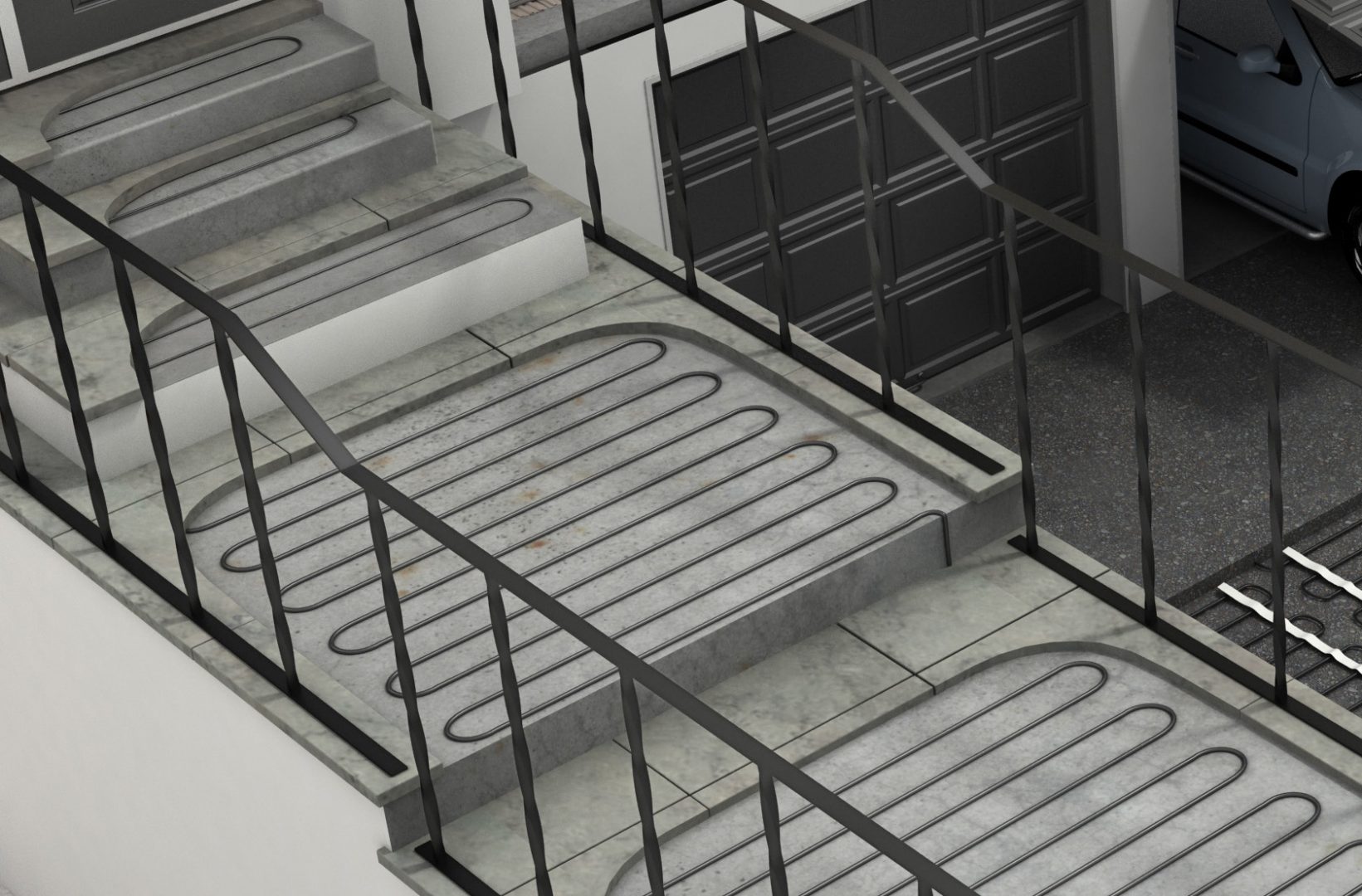 The simple answer to this question is yes! Radiant floor heating can be installed anywhere, including driveways, walkways, and outdoor stairs, and the installation process is much more straightforward than you might imagine.
If you're building or rebuilding the outdoor stairs from scratch, it's recommended to cut the strips to about 10", or the depth of the steps, and apply every 2 or 3ft in width to maintain consistent spacing of the cables. For a 10" step, it will require a loose run of 3 cables, making sure one of the runs is on the outermost edge of the step to guarantee heating for any overhang or toe.
If building stairs from scratch, take note as to if the plans call for railing installation. Typically rails are drilled after any masonry or concrete, so you'll need to leave a minimum of 6" on the edges of the steps.

The Benefits of Heated Outdoor Stairs
Now that you understand how radiant floor heating works and how it can be used to heat outdoor stairs, let's take a moment to discuss why it's such a valuable tool for you, the homeowner. Here are two significant benefits of heating your outdoor stairs:
Snow Melting and Safety
Snow is super fun until the temperatures become inconsistent, and it starts the melting and freezing cycle. As the heat rises during the warmer parts of the day, the snow outside your home will slowly begin to melt. Then, when the temperature drops again at night, the melted snow will freeze, making it incredibly slippery.
Radiant heating allows you to avoid this chaos altogether by fully melting the snow before it builds up, so it never has a chance to become a safety hazard. It prevents snow and ice buildup, making your stairs much safer, so you and your family never have to worry about hurting yourself on your way out the door! Customers also love limiting liability with any delivery drivers or workers who are at their home/business.
Comfort
This newfound safety ultimately leads to a greater sense of comfort. When you don't have to worry about trekking through snow or walking down slippery staircases, you will be much more comfortable. There's nothing as valuable as peace of mind, and that's what radiant flooring provides.
Work with Warmup for the Best Radiant Heating Options for Outdoor Stairs
No one likes to wake up, get dressed, eat breakfast, and then walk down ice-covered stairs to get to their car. Not only is it potentially dangerous, but it's also incredibly uncomfortable and stressful. That's why so many homeowners choose radiant heating for their outdoor stairs.
If you're searching for an energy-efficient and cost-effective solution to your snow and ice-covered outdoor stairs, you've come to the right place. At Warmup, we specialize in giving homeowners high-quality heating solutions and the peace of mind they deserve. Contact us today for additional information, or fill out this form for a quick quote!