Best Warranties
The great warranties on our products is possible thanks to our commitment to Research and Development, on-going quality assurance from the ISO 9001 process and the testing requirements of the BEAB and other regulatory houses.
Hence, we do not believe that all Warranties are the same. Our Warranties come with assured levels of Research and Development, accreditations, strong financial backing and over 20 years of trading.
We offer the market leading warranties and advise checking the real substance of the guarantees of any other companies in the market before making a purchase.
---
Warranty Durations
Thermostats & Controls
All Warmup thermostats and controllers are warrantied for a period of 3 years.
---
Electric Systems
Warmup Mat system & DCM-PRO Cable – Lifetime Warranty
Warmup Foil Heater & Inslab Heating Cable & outdoor heating mats and cables – 10 Year Warranty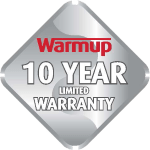 ---
SafetyNet™ Installation Guarantee
We were the first brand on the market to offer a SafetyNet™ Installation Guarantee on our heating wire.
If you damage the heater while installing the system, we will replace it free of charge. Just contact our 24-hour technical support line on +1 (888) 927-6333 to organize the replacement to be sent out to you – nice and easy!
If you have any questions, we would love to help!